ETS Introduces Low-Cost Glove Box and Humidiity Controlled Chambers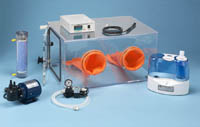 The 5503 Series features light-weight, stackable acrylic boxes with excellent visual characteristics. The chamber may be used as a stand-alone dry box or equipped with optional controllers, operating systems and accessories to meet specific customer requirements.
The 5503 Series is designed for conditioning, testing, weighing, storage and fabrication in University Research, Biomedical, Pharmaceutical, Electronic, Electrostatic, Dental, DOD, Automotive and many other applications. The chamber is fabricated from ¼" clear acrylic using PS-30 weld joints. The door is secured to the chamber by a heavy-duty, ¾-turn, adjustable latch that forms a tight seal against a rubber gasket recessed into the sidewall. The 12" x 12" opening allows easy access. Five standard access ports and a 1.5″ cable pass-through allow easy hookup of the customer selected subsystems.
Model 5503-00
Dry Box Only (No Gloves/No Glove Ports)
Model 5503-11
Chamber with Gloves and Ports
Package A (5503-1-00-300-4000)
For Low Humidity Set at 5% RH Dry Nitrogen/Dry House Air)
Package B (5503-1-00-400-1000)
Adjustable Low Humidity Environment
Package C (5503-1-11-600-0100)
Elevated Humidity Controlled Environment
Package D (5503-1-11-600-1100)
Bi-directional Humidity Control Environment
Package E (5503-1-11-100-1101)
Complete Humidity and Elevated Temperature Environment
Package F (5503-1-11-100-1131)
Humidity and Temperature Environment for Precision and Stability
SPECIFICATIONS
Chamber Dimensions: 24" W x 18" D x 15" H
Usable Space: (3.75 cu. ft.)
Access Opening: 10" x 10" with Gasket Seal
Door Latch: One (1) ¾-Turn Heavy Duty
Chamber Construction: ¼" Acrylic
Door Construction: ½" Acrylic
Gloves: Neoprene Rubber
Glove Ports: 5" dia.
Back to News