Model 5473 – Cooling Systems (Thermoelectric) for Chambers, Dry Boxes and Glove Boxes
Overview:
The Model 5473 Environmental Chamber/Dry Box Cooling system is a series of solid state cooling systems that utilize the Peltier effect to reduce temperature. A 110-CFM circulating fan is used to distribute the cool air within the chamber. Very precise temperatures can be maintained using this system.
The Model 5473-150 is capable of providing approximately 18°F (10°C) in an uninsulated 9 cu. ft. chamber. The Model 573-300 is capable of providing of approximately 27°F (15°C) in an uninsulated 13 cu. ft. Larger versions are also available. Heat load, insulation and chamber size will ultimately determine the level of cooling obtained. Designed for use with ETS 500/5000 Series Controllers and Chambers, the Model 5473 may also be used with other sealed enclosures.
Features:
Precise, stable control of temperature
Use in chambers up to 20 cu. ft.
Cooling to 18°F (10°C) in uninsulated chambers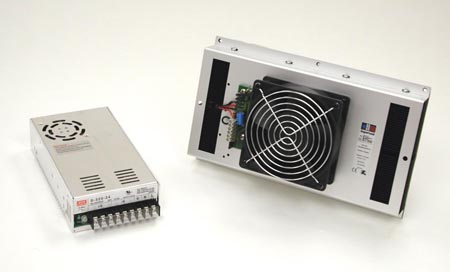 Downloads