BioMedical
The biomedical industry is involved in developing innovative biologies, materials, processes, implants, devices and informatics approaches for the prevention, diagnosis, and treatment of diseases, as well as patient rehabilitation and improving health. Examples of commonly used biomedical engineering products are prosthetic eyes used in ophthalmology, breast implants, and pacemakers.
Application and Curing Properties of Medical Cyanoacrylates
Various industries (including biomedical) use sealants and adhesives, including cyanoacrylates. These are a family of strong, fast-acting adhesives with industrial, medical, and household uses. Medical-grade cyanoacrylates are biocompatible and USP Class VI approved.
These adhesives can be readily dispensed with low cost manual, semiautomatic, and automatic production equipment. Fixture time is in seconds, and full strength is achieved within 24 hours. The higher the humidity and the thinner the bond line, the faster the cure. ETS temperature and humidity chambers have helped biomedical companies ensure fast, high quality curing while maintaining a safe, clean environment.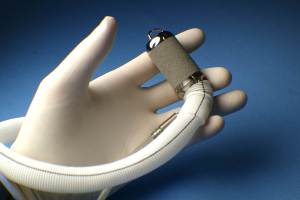 Recommended Products for BioMedical
ETS is in the labs of: BioMedical